A brief History
Dolphins River Park is one of Charmouth's oldest caravan parks having had caravans on its site for over 40 years. It nestles peacefully on the banks of the River Char in the unspoilt Dorset countryside. Rich with wildlife including Kingfishers, Deer and Otters.
Only one mile inland from the famous "fossil" beach of Charmouth and just three miles from Lyme Regis - the "pearl" of Dorset. The coastline having been awarded World Heritage Status. This area makes an excellent base from which to discover the many obvious and hidden delights of West Dorset and East Devon. Also very close to the ITV's fictional Broadchurch town at West Bay.
It had always been privately and family owned up to 2019 when it was sold to Country Wide Park Homes at the beginning of July that year and then sold on to the current owners of The Royale Group at the end of the same month. The park then changed its name from Dolphins River Park to Dolphins River.
The park has 36 pitches made up with 34 static caravans, one lodge and one park home. The park has a licence to open all year and for holiday use only.
It sadly appears that the current owners are possibly planning on replacing the static caravans with lodges on the park at some point, which is rather surprising given the small overall size and flood risk. The park having a 12 month licence to remain open means that the lodges could be used all year round. The local residents won't be happy with that with increased traffic up and down a narrow lane and the Council would no doubt get involved again. Obviously the Council Planning Dept would have to approve things.
It's interesting that 'Wood Farm' caravan park, just up the road from Dolphins, has this year been taken-over/purchased by the holiday giant "Park Holidays" already having 42 holiday parks in England sees the significant potential of increased static caravan sales. And to this end are seeking the approval of Dorset Council to change the current area for 53 touring caravans to an area for 44 static caravans....
Being adjacent to the River Char, Dolphins River Park is prone to flooding. There has been three major floods with the loss of several caravans in two of the incidents. One very significant flood was on May 30th 1979 and the other on July 7th 2012.
Another more recent significant flooding was in the early hours of October 21st 2021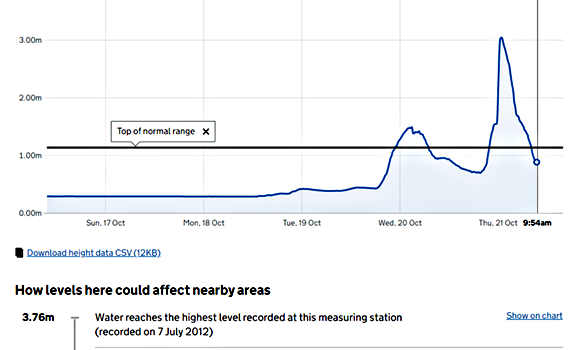 Here can be seen the rapid rise and fall of the River Char's flooding at Charmouth on Oct 21st.
This was after several hours of heavy rain which was a frightening experience with flood water roaring through the caravan park.
Damage was far less than in July 2012 but still not insignificant. However, another hour of rain and things would have been much worse!
The fire brigade's wading team were on scene at one point in the early hours.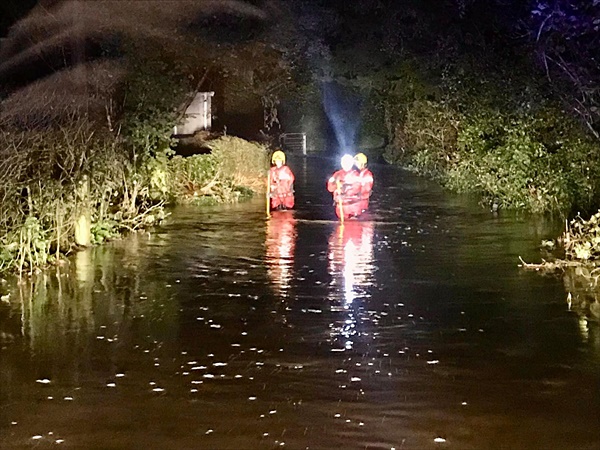 Fire Brigade Wading Team along Berne Lane! Oct 2021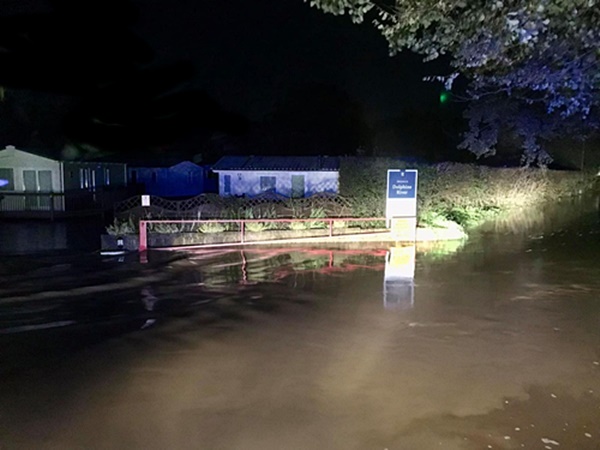 Dolphins River entrance in flood - unable to get in or out for a few hours! Oct 2021

The park will obviously flood again at some point - so important for all properties to be fully insured and particularly for floods. Unfortunately not all insurers will insure units at Dolphins because of the flood risk.
For more information on the 1979 flooding click here
For more information on the 2012 flooding click here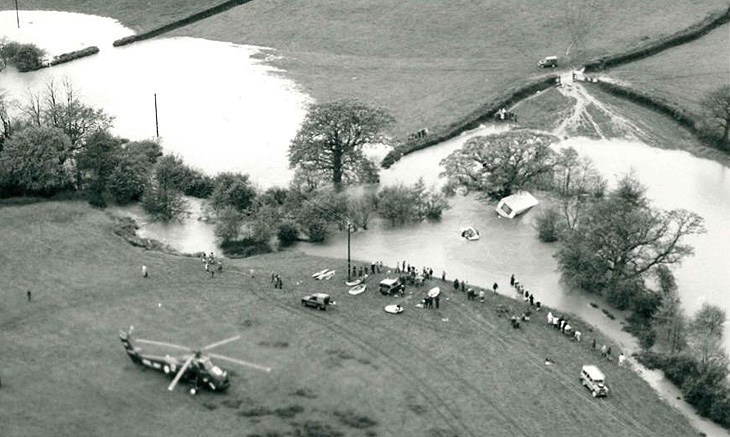 Major flooding in 1979 - most caravans were washed away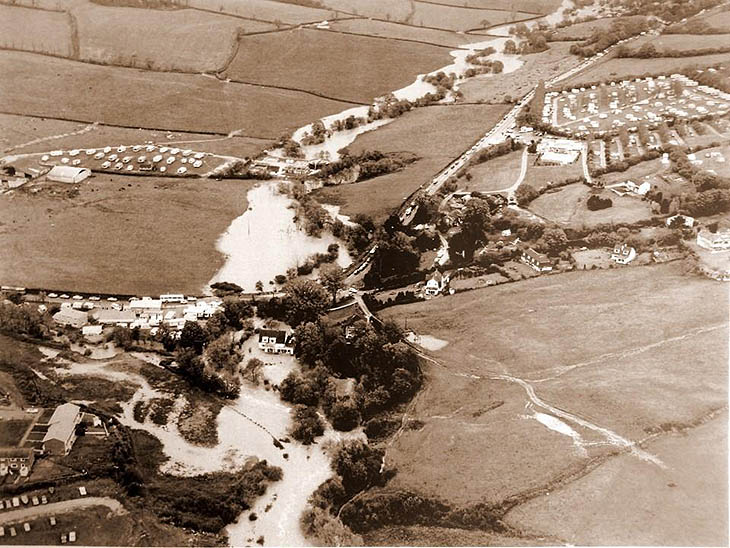 The Char Valley in-flood in May 1979